Thermal Insulation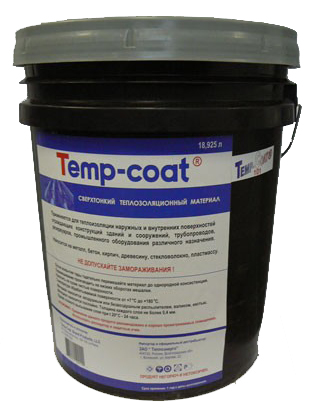 Liquid insulation of the hyperfine TEMP-COAT 101
Liquid insulation TEMP-COAT – TEMP-COAT® 101 is a general purpose insulation which comes in liquid form. This industrial designed liquid acrylic latex ceramic insulation performs extremely well on piping, air and heat duct work, exposed water pipes, tanks, oxygen lines, steam lines, refrigeration equipment, cryogenics, and condensation control. This amazing product has many other uses. It physically adheres to the surfaces it insulates between -80ºF (-66.2 C) and +350º F (176.7 C). The product will work on surfaces as hot as 500º F (260 C) using the special instructions offered by TEMP-COAT® Brand Products, LLC. TEMP-COAT® offers a warranty for specific uses of the product for industrial, commercial and home use. Complete information on this product is available in CD Format and can be requested by contacting us via our web form or emailing us directly.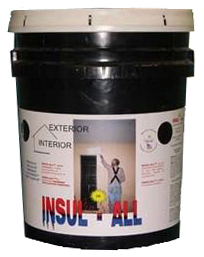 Thermal insulation coating Insul-All
Insul-All is a reformulation of TEMP-COAT 101 pointed to the homeowner and do-it yourselfer. Insul-All is a derivative of TEMP-COAT and excellent insulation for walls, ceilings, rooftops, pipes, air conditioning duct work, and much, much more. Application is with a brush, roller, or airless spray. This product has been fortified with a special polymer that allows it to be applied easily using a brush or roller. The product can be used by industry for hand application on surfaces operation under 212 F (100C). Insul-All provides the same degree of R value as does TEMP-COAT within the limits of its use. Easy to use, Easy clean up and an Easy way to save money and Energy.

JSC "TEPLOENERGO" has an exclusive ditributor rights on TEMP-COAT product line at the territories of Russia, Ukraine, Republic of Belarus, Kazachstan, Uzbekistan, Turkmenistan, Azerbaidjan, Qatar, Oman, Kuwait, and Saudi Arabia. We are an exclusive distributor of the company TEMP-COAT Brand Products, LLC, USA, an official service provider of government orders of U.S. NAVY.