Liquid insulation of the hyperfine TEMP-COAT 101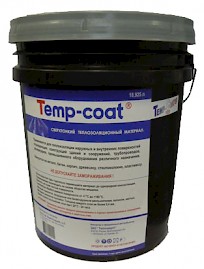 Liquid insulation TEMP-COAT – TEMP-COAT® 101 is a general purpose insulation which comes in liquid form.
This industrial designed liquid acrylic latex ceramic insulation performs extremely well on piping, air and heat duct work, exposed water pipes, tanks, oxygen lines, steam lines, refrigeration equipment, cryogenics, and condensation control. This amazing product has many other uses.
It physically adheres to the surfaces it insulates between -80ºF (-66.2 C) and +350º F (176.7 C).
The product will work on surfaces as hot as 500º F (260 C) using the special instructions offered by TEMP-COAT® Brand Products, LLC.
TEMP-COAT® offers a warranty for specific uses of the product for industrial, commercial and home use. Complete information on this product is available in CD Format and can be requested by contacting us via our web form or emailing us directly.
TEMP-COAT for Industrial Applications – If you've got a big job to do that requires juggling a lot of equations and variables such as heat, cold consideration, space, freeze, thaws, heat tracing, down time, turnaroundsand a myriad of other considerations, demand TEMP-COAT®.

We carry a complete line of environmentally safe products designed for residential, commercial, and industrial use. Our product line is long lasting, safe, and geared for safety to protect your property and save you money on energy costs, repairs and renovations. Thank you for visiting the Span-World Distribution web-site. To learn more about TEMP-COAT® brand products, specifications, instruction, MSDS sheets, sales, or information on our distributor program.
TEMP-COAT for Transportation Applications – Transport and vehicle insulation may work sometimes, but rarely works all the time. TEMP-COAT® Liquid Latex Ceramics insulates everything from milk trucks in Alaskan winters to bakery trucks in New Orleans summers. We solve heat problems, load problems, product failure problems, distance hauling problems, fresh fish and produce problems and all kinds of problems.

Put a 20 mil thickness of TEMP-COAT® on your motor home or bus and enjoy it twice as much.

Put a 40 mil thickness of TEMP-COAT® on your utility body and make ice last all day with your deliveries.
We fit and stay exactly where you want us to be.

Use TEMP-COAT® inside your custom bus or van and create an entirely new perspective in personal comfort.
We do autos, trucks, buses, industrial equipment, fire engines, ambulances, trailers, refers, rail equipment, RVs, and we do it right.

TEMP-COAT INSUL-ALL – Insul-All is a reformulation of TEMP-COAT 101 pointed to the homeowner and do-it yourselfer. Insul-All is a derivative of TEMP-COAT and excellent insulation for walls, ceilings, rooftops, pipes, air conditioning duct work, and much, much more. Application is with a brush, roller, or airless spray. This product has been fortified with a special polymer that allows it to be applied easily using a brush or roller.


TEMP-COAT ROOFINF ANL SIDING - TEMP-COAT 101 can be used on the exterior or interior. As a thermal reflective coating, a 15 mil thickness has been rated by certified labs equivalent to an R-20. TEMP-COAT 101 is applied using airless spray equipment. Coverage at 15 mils is 60sq. ft. per gallon. TEMP-COAT 101 is a perfect fit for metal, shingle, BUR and other roof surface types for use on exterior roof and wall surfaces. In some cases, a primer is recommended. This product offers a wonderful opportunity to add R value back to a structure that is poorly insulated or a building in which the insulation has failed. This product is applied and the old insulation is left in place.


TEMP-COAT MARINE APPLICATIONS - Marine "Full contact marine insulation and anti-sweat"

Lloyd's Register SAS / F96 / 640 - TEMP-COAT® 101 insulation coating has been reviewed by Lloyd's Register and has been classified as a Fire Resisting Material, having Low Flame Spread characteristics and suitable as a vapor barrier or for pipe and cargo space and refrigerated compartments.

TEMP-COAT® 101 is used widely to control
condensation caused by changes and differences in temperature on hulls, bulkheads, overheads, pipes, refrigerated equipment and other surfaces which tend to develop moisture related problems. It's a very flexible insulation, which is used regularly on barges, push boats, tugs, fishing fleets, pleasure crafts, drilling rigs and platforms, offshore machinery, piping, pipelines, boilers, water separators, sleeping quarters and much, much more.

TEMP-COAT® 101 contains no V.O.C.s or heavy metals. Its nontoxic, completely safe and can be used in personnel quarter. If you don't use TEMP-COAT® you are missing the boat!!

JSC "TEPLOENERGO" has an exclusive ditributor rights on TEMP-COAT product line at the territories of Russia, Ukraine, Republic of Belarus, Kazachstan, Uzbekistan, Turkmenistan, Azerbaidjan, Qatar, Oman, Kuwait, and Saudi Arabia. We are an exclusive distributor of the company TEMP-COAT Brand Products, LLC, USA, an official service provider of government orders of U.S. NAVY.